You'll definitely find an idea you want to use in this list of 12 Low Budget Outdoor DIY Projects for Better Curb Appeal. Yay!
Low Budget Outdoor DIY Projects
Get ready for summer parties and BBQ's with these Low Budget Outdoor DIY Projects for More Curb Appeal.
If you are a fan of DIY, and you probably are since you're here, then you're probably thinking about which projects you can do to improve your outdoor spaces this summer.
I'm all about outdoor projects right now. And, so are some of my fantastically creative blogger friends. This month we all shared our latest Make It Pretty Outdoor Projects.
Here are some those great Low Budget Outdoor DIY Projects for More Curb Appeal!
DIY Projects for More Curb Appeal
Dress up that Front Porch with this Fun & Pretty DIY Welcome Pineapple Doormat tutorial from Two Feet First.
Some links on this post are affiliate links. As an Amazon Associate I earn from qualifying purchases at no additional cost to you.
The Handyman's Daughter built this beautiful DIY Vertical Garden Wall that has built in storage at the bottom. Clever! Grab the plans on her site.
Here's a great project that saves you time all summer long. Stop weeds from popping up on those garden paths with 3 easy steps.
House By The Bay Design shared her steps for these beautiful DIY Raised Garden Beds. I wish I had this huge vegetable garden in my yard. 🙂
The Frugal Homemaker has the steps to make this fantastic DIY Large American Sign from Picket Fences. I love these Low Budget Outdoor DIY Projects!
If you need to hide you Air Conditioners, Boat, Old Car, or even under your deck, but DON'T HAVE ROOM for a gate, I have a trick for making removable outdoor screens and panels.
Girl, Just DIY shared her 8 Steps to Create a Weed-Free Flower Bed and her flower bed makeover turned out so nice, guys!
Looking for a bigger home improvement project? Check out my DIY Tongue and Groove Porch Ceiling Makeover.
Kenya Rae grabbed some Thompson's Water Seal and absolutely rescued her Front Porch. You won't believe the before photos and she shared the steps for this makeover too.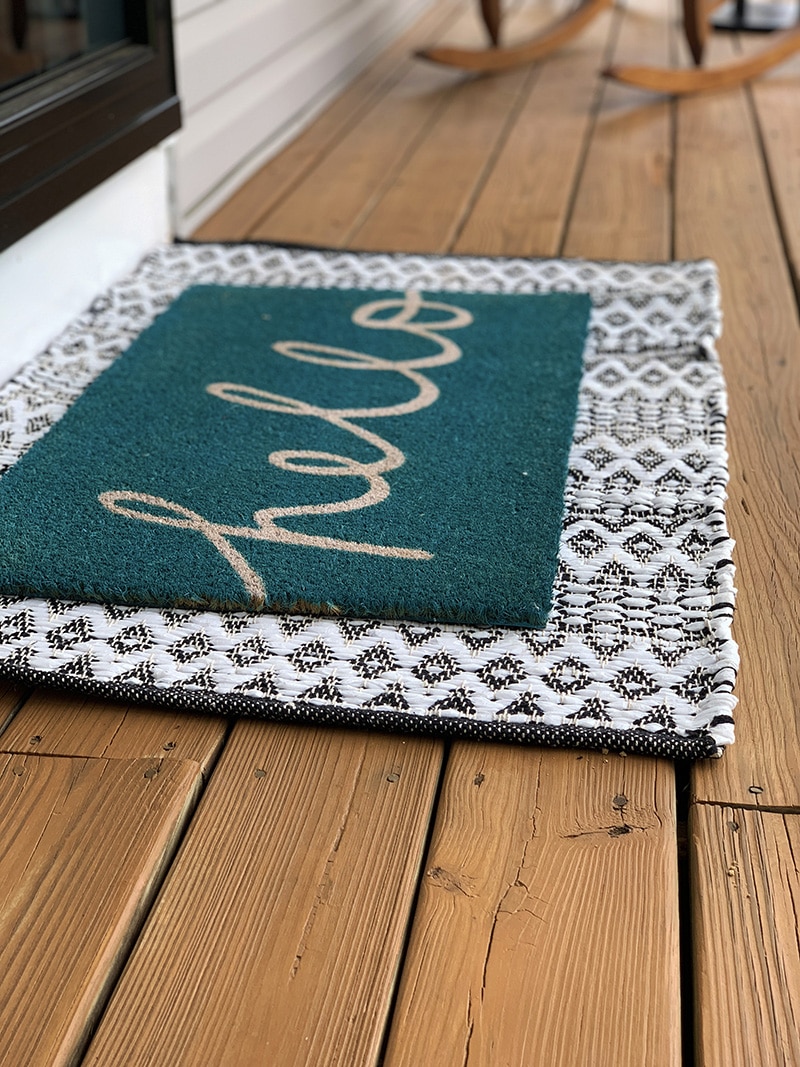 Living Letter Home has the tutorial for her Modern Farmhouse DIY Mailbox Makeover and isn't it a sweet mailbox. I love it. 🙂
Sometimes the wood around the outside of your home can get soft and rot away. Here's my steps and video for how to use Bondo to patch that wood and make it look new again.
One last project, I built this extra large L-Shaped Backyard Bench for about $130. It's one of my favorite builds and I shared the full build steps.
That's it for this list. Good luck with your next DIY project. And, Don't forget to pin this list for later. 🙂
---
Looking for more ideas to add curb appeal to your home? Check out this big list of 30 Beautiful DIY and Store Bought Planters.
You can build this great Easy DIY Swing Set Build in just an hour.
Also, I love this easy Halloween makeover in How to Hang Giant Spider Decorations on a House.
Or, this quick way to make those porch lights look like beautiful gas lights.
Add more curb appeal with How to Repaint a Door without Removing It and Why Is My Front Door Paint Bubbling & Blistering.
---
Thanks for checking out these Low Budget Outdoor DIY Projects. Please let me know if you have questions. Don't forget to sign up for the Abbotts At Home email newsletter to get DIY, Remodeling, and Crafty ideas in your inbox.