Here are some of the best DIY Upcycle Ideas I've found, to inspire your next project. Upcycle your boring furniture into something beautiful!
Best DIY Upcycle Ideas
Yay! I love how creative some people can be when thinking up a new use or look for something.
And, these DIY ideas from some of my blogger friends are definitely worth sharing.
Here are some of the best DIY Upcycle Ideas I've seen, to inspire your next project. 🙂
Some links on this post are affiliate links. As an Amazon Associate I earn from qualifying purchases at no additional cost to you.
DIY Upcycle Ideas & Inspiration
I LOVE a good way to upcycle anything and everything. Here's some amazing ideas from some of my blogger friends. And, a few upcycle projects from this site too.
Here's the 20 Best DIY Projects Using Chalkboard Paint for your home. I LOVE these ideas! They are so creative and look great too.
Photo Credit: refashionablylate.com
DIY Home Decor Upcycle Ideas
If you have some old home decor that needs a new life and a new look, here are some of the best DIY Upcycle Ideas for your home decor.
Paint is always a great way to update old decor. And, it can be pretty fun to play around with layers of paint to get a stylish new look. I have the easy DIY steps for this Weathered Paint Effect here.
Refashionably Late upcycled an old magazine rack into the cutest portable book storage for kids. Loving this idea!
I love, love, love this upcycle from the DIY Dreamer. This Upcycled Rug Wall Hanging Makeover is genius. I love any excuse to add Tassels to something, so of course this made my list of the best DIY Upcycle Ideas.
Delicious and DIY hand painted this beautiful Anthropologie Knock Off Vase. And, her DIY makes it look so easy, guys! How sweet is this vase!
How sweet is this Upcycled Magazine Holder from Gathered in the Kitchen. So pretty, right?!
The Songbird Blog upcycled some plain old crochet curtains into a beautiful Boho DIY yarn wall hanging. How fun does this project look?! You should definitely add this to your list of the best DIY Upcycle Ideas.
The Song Bird Blog can show you how to make stamped books to decorate your shelves.
The Frugal Homemaker turned one old bar stool into 2 Super Cute DIY Upcycled Plant Stands.
How creative is this use of faux succulents?! Meegan Makes' best DIY Upcycle Idea is a Garden Vintage Typewriter makeover.
And, yay! I have been wanting to paint over some old canvases for months. So glad to see how Savvy Apron updated hers. Here's how to create DIY art by painting over an old canvas.
This will work on an old canvas, new canvas, or even old decor. I've used Copper, Bronze, and Rust Patina Chalk paints to update the mirror in our powder room, some old glass and ceramic vases, and furniture. I love adding some metallic touches around the house. Here's how to get 20 different looks with patina paint. 🙂
Do you love Jute? I do. Gathered in the Kitchen made a DIY Farmhouse Jute Tray from an old cookie tin. You can probably use her steps to update so many things with Jute rope, guys. That's why this trendy project is on my list of the best DIY Upcycle Ideas. 🙂
Check out this creative upcycle from Hello Central Avenue! She can show you how to make DIY Custom Wall Decals with wax paper, guys. 🙂
My Favorite DIY Upcycle Tutorials For Furniture
Now, let's give your tired, old furniture new life with some of the best DIY Upcycle Ideas for furniture from my clever DIY-loving friends.
Here's a DIY Mosaic Table Top Makeover for my woodworking friends. It has that wow-factor. 🙂
The Frugal Homemaker gave her end table a makeover with milk paint and stain. This turned out so beautiful, right?!
2 Bees in a Pod's DIY Painted Bamboo Chair Makeover is absolutely beautiful. I love her choice of paint and fabric on this tutorial from my list of the best DIY Upcycle Ideas.
These stools were looking pretty rough. Here's how I Stain Wood Furniture Without Stripping. This DIY made these stools look new again.
I've been following The Handyman's Daughter for years now. She always shares great DIY's and remodels. This pretty design for a DIY Potting Bench with Sink is definitely a favorite of mine. You can build this from new wood or scrap wood from an old build, like she did.
Kenya Rae turned an old dresser into this sweet buffet by removing some drawers and adding doors. Clever lady! And, she has the DIY to tell you how to do this best DIY Upcycle Ideas makeover.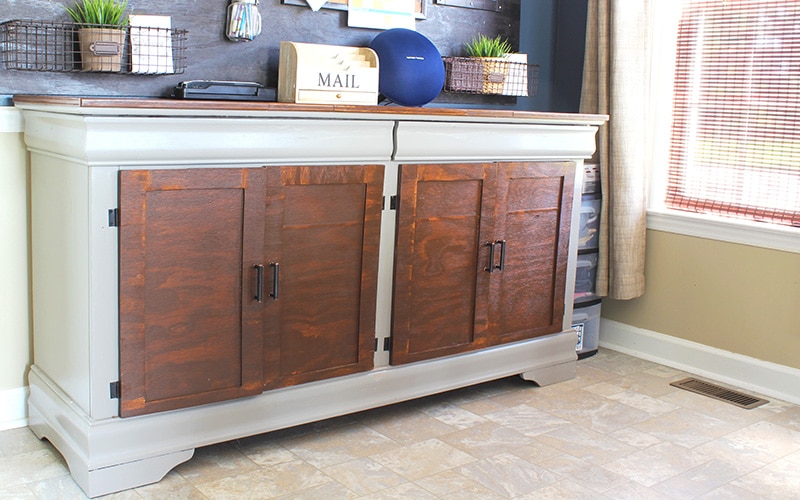 If you're thinking about trying a new upholstery look on a chair or couch, check out my tips and favorite tutorial videos I used to give my wingchair a blue velvet makeover.
Repurpose and Upcycle can show you The Best Way to Paint Cane Back Chairs in this tutorial.
T Moore Home rescued her beat up old desk with this classic looking update. But guess what, guys? That burl wood isn't really wood. Check out this Burl Wood Furniture Update here.
Give any piece of furniture a beautiful new look with this DIY White and Grey Distressed Paint Makeover.
You might also like this DIY Shabby Distressed Paint Finish tutorial to get a vintage thrift market look. It's one of my favorite paint makeovers on this list of best DIY Upcycle Ideas.
How about this Blue and Copper Chalk Paint tutorial. I love how paint can totally change the look of furniture.
---
Looking for more Awesome DIY Upcycle Ideas and Inspiration? Check out how I converted some of our cabinets into this DIY Mudroom Bench.
Or, make some pretty wall art or drawer liners with my fun and easy DIY Acrylic Pour tutorial with videos.
---
Thanks for checking out my big list of the best DIY Upcycle Ideas I've seen lately. Please let me know if you have questions. Don't forget to sign up for the Abbotts At Home email newsletter to get DIY, Remodeling, and Crafty ideas in your inbox.